Well, isn't this a red letter day!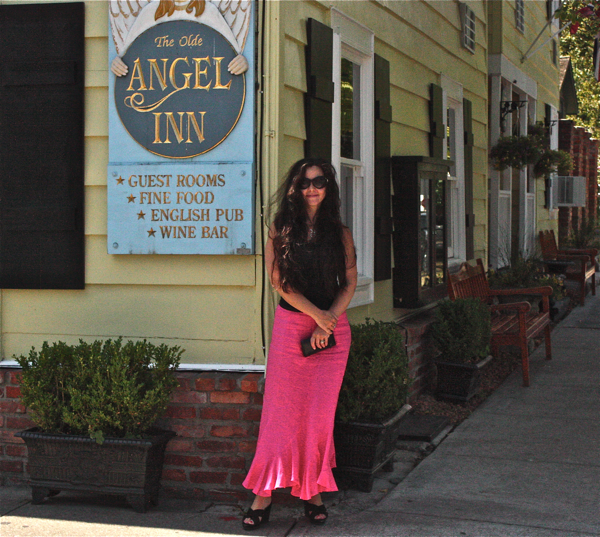 My name is Cynthia and I am thrilled to be over here at HouseTalkN today.
I love Kerry! I only know her from blogland but it seems to me that she has all the attributes of a great friend... funny, clever, creative and doesn't take herself to seriously... Perfect!
So as you can imagine I was getting out the jazz hands when she asked if I wanted to give a little house tour today!
I am a decorator, my husband and I run a custom interiors business together and we share all our projects, travels, entertaining ideas etc. over at our blog A Button Tufted Life...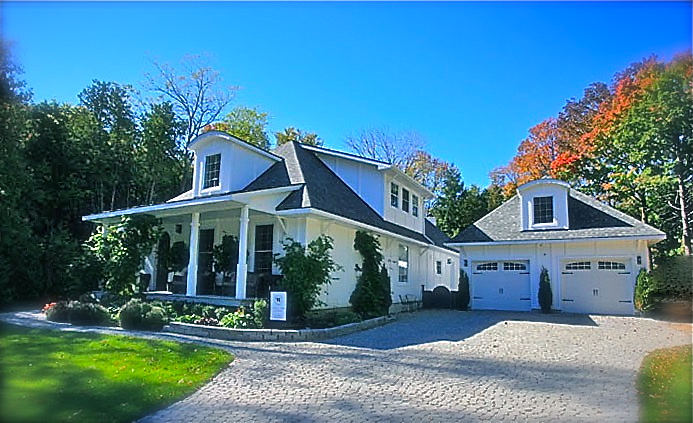 This is our home that we designed and built a few years ago.
There is a story that goes with this house... Kent came home one day with an eight foot antique hoop top door... so we designed a house around it!
Yes, we are " those " kind of people.
I will show you around outside first...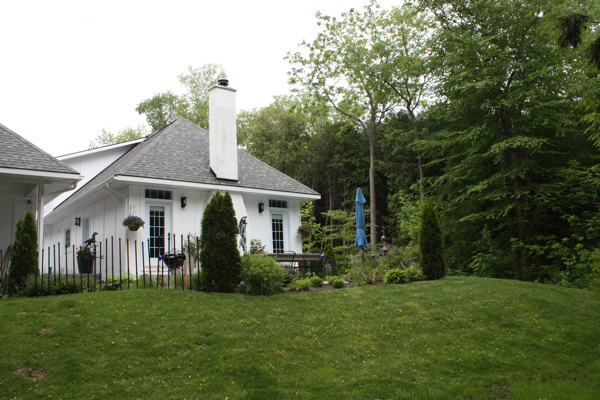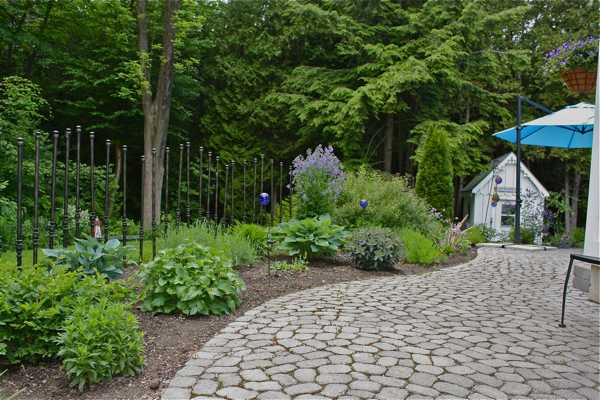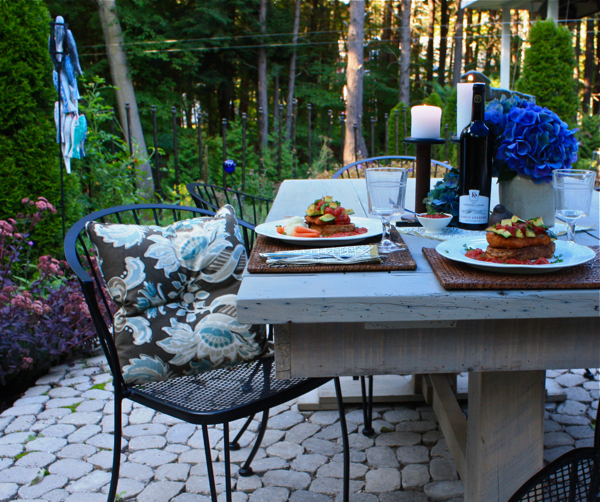 I could have shown you winter photos... but I thought a bit of summer might be more fun on a February morning!
Relaxing back here is nice. With large trees all around and the patio looking down on the gardens, it is a calming place to sit with friends and a glass of wine... or two.
Shall we go in?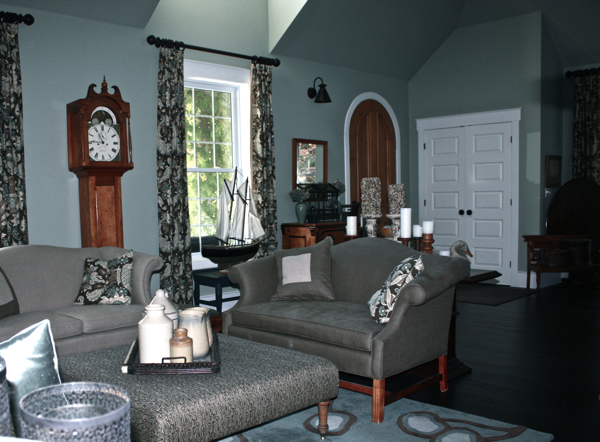 The door that started it all leads into the living room.
I like to use an collected eclectic style because that is who we are... the ottoman in this room is a piece that we made using antique legs and Ralph Lauren fabric. The rug is Angela Adams.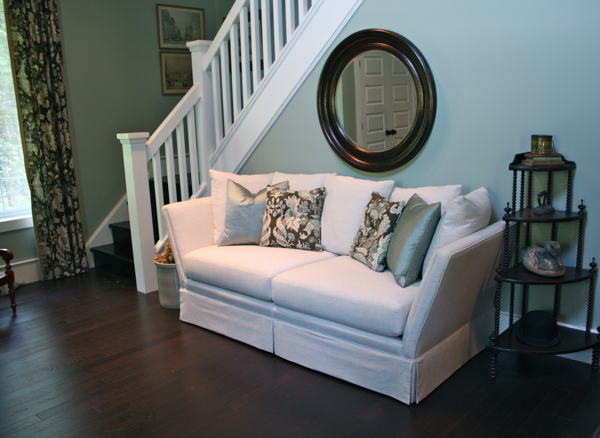 We will head up the stairs first and check out my studio...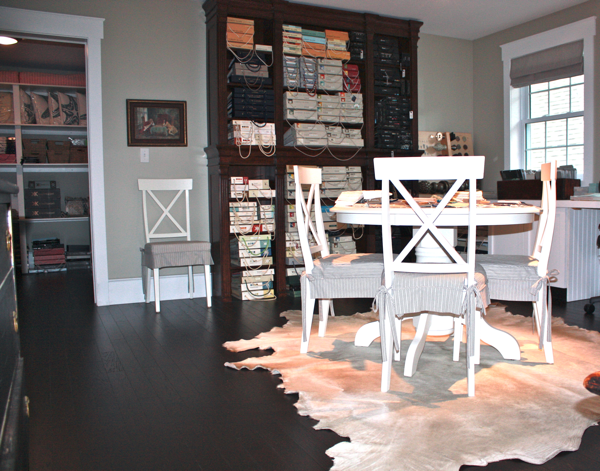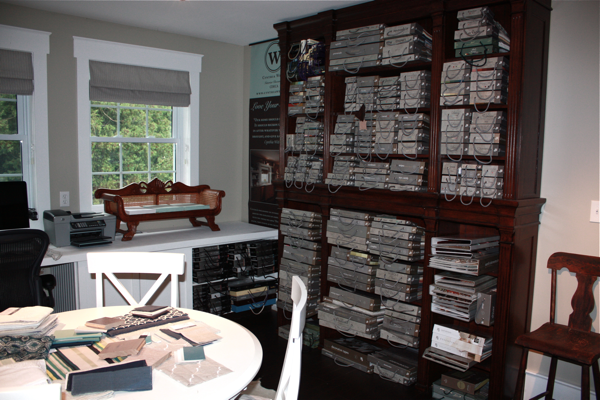 I love working in this space. All of my samples easily on hand and a great table to sit with clients and play!
The little settee is a favorite piece of mine, it holds my invoices and letterhead.
Ok, Back downstairs now...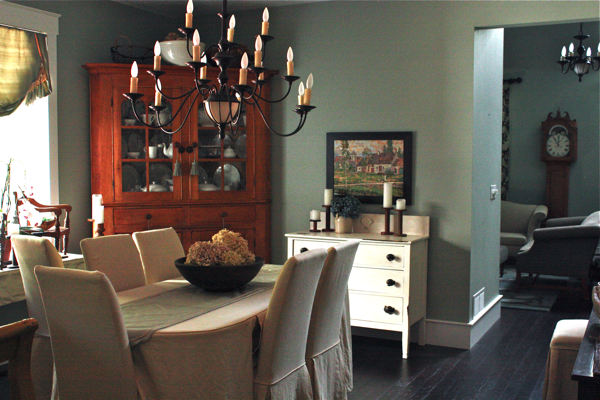 The living room leads into the dining room. It is country casual with linen slipcovered chairs and a mix of antiques and art.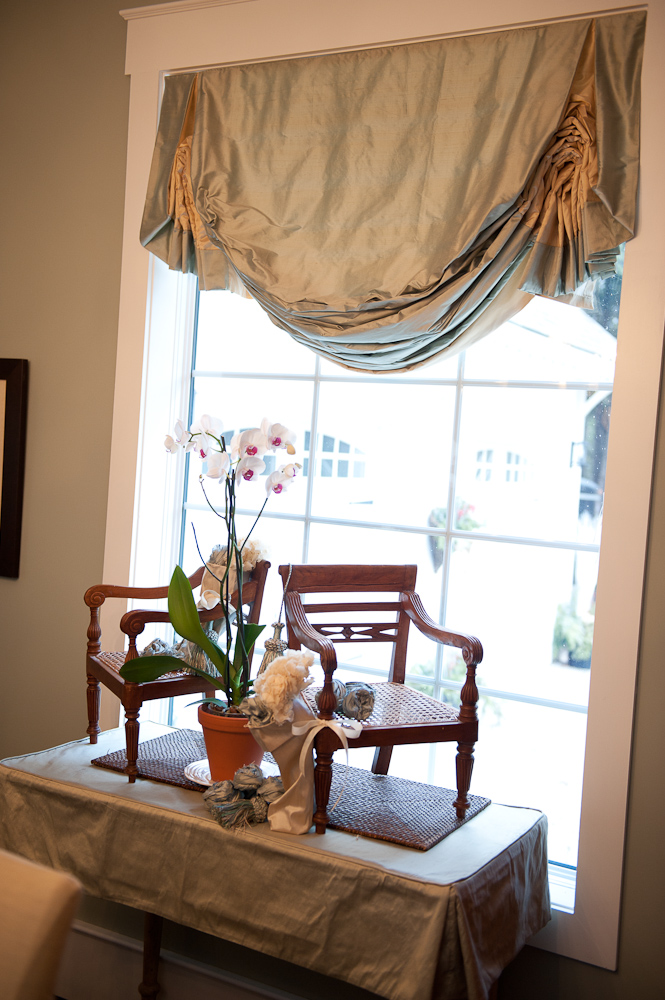 From the dining room we go into the open concept kitchen and family room.
This is where we spend most of our time.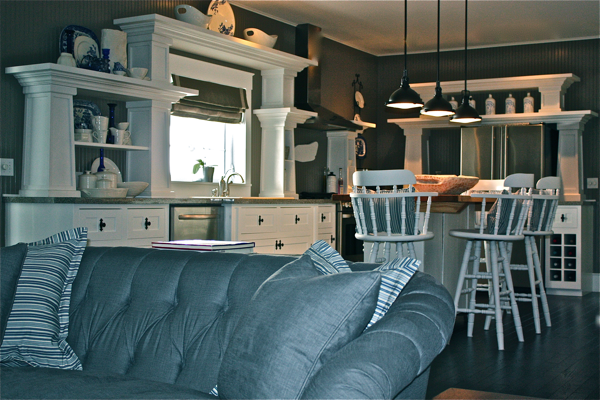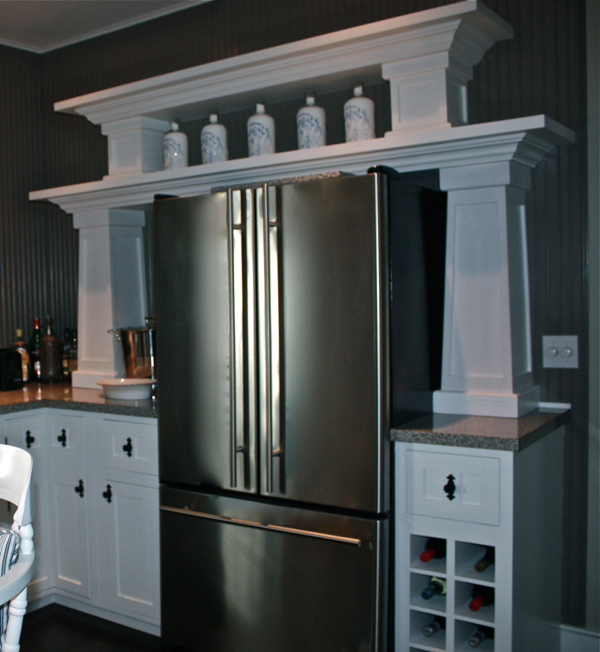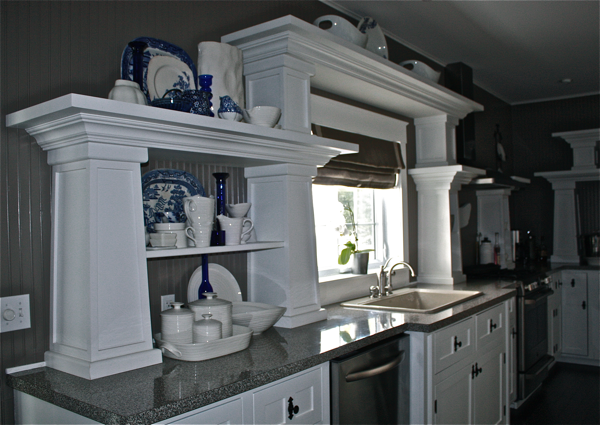 I wanted a unique kitchen, I made some sketches and worked with a cabinetmaker. Having the open shelving for uppers works well for us, we cook and entertain often and love the accessibility it offers... I also love displaying the shelves!
The island is made using an antique buffet as the base and a salvaged top. Kent refinished the top and added bracing underneath.
The bowl on the island is carved by Kent... he makes beautiful woodenware and folk art.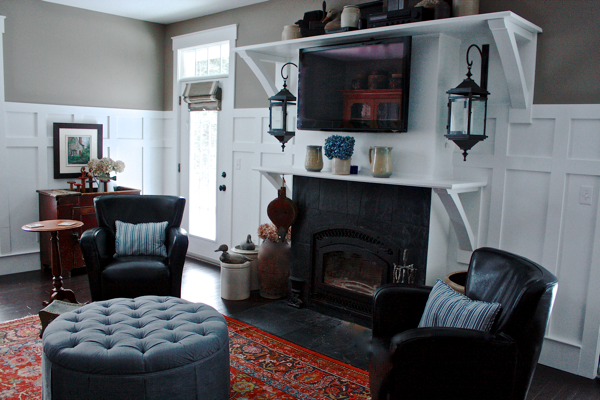 At the back of the house is the family room. Two transom doors lead out to the backyard patio from here.
We actually just finished the wainscoting project... paint may still be a little wet! (If you would like to see the before and after give a click.)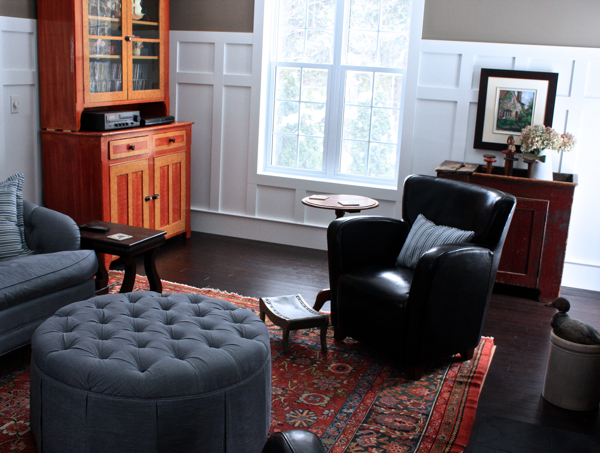 Would you perhaps like to see the master bedroom?
Yes?
Here it is: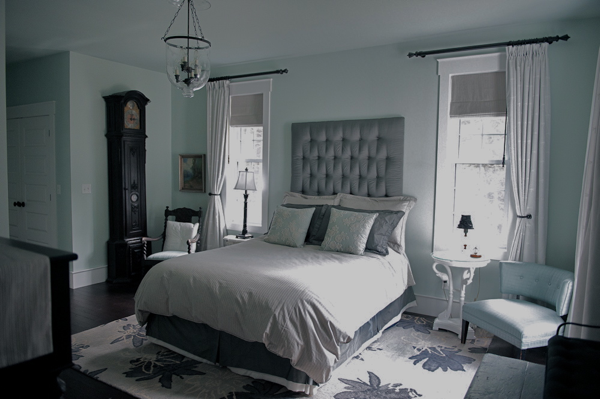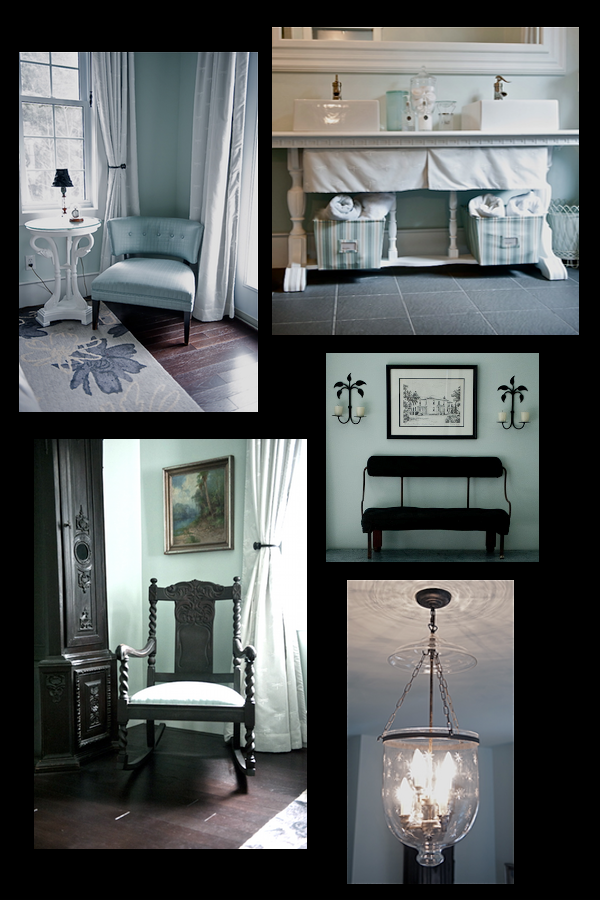 Located off the kitchen ( handy for snacks and for when we are old!) our bedroom is an oasis for us.
I used an icy spa blue for walls and mixed it with steel grey and white.
We found this amazing clock (dated 1793) at an auction and didn't know where to go with it...
I think it works well in here although I did get a fright the first night when I woke up and thought there was a very large person staring down at me!
The sink base in the ensuite is a salvaged table, both side chairs were redone for the room and the little bench below the print is actually a child size buggy seat.
I think that just about wraps it up! I hope you enjoyed seeing our home, I certainly enjoyed showing it to you.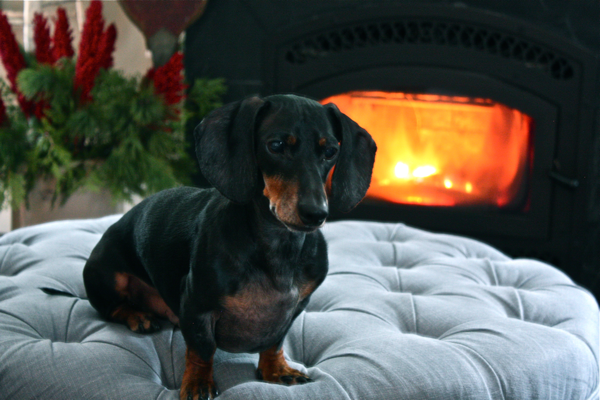 Emmitt is our mini doxy and my media guru...
He suggests I include a few links in case you are interested in seeing what we get up to next or want help with your home projects... Blog , Pinerest, E-Design Packages,
Big thank you Kerry for letting me come play at Home TalkN today!!!