Welcome to April's Finding the Funny! Before we start sharing our funny posts, we have a (huge) giveaway!
My Parenting Victory (and a HUGE giveaway)!
On Easter Sunday, getting my girls ready for church was turning into an all out battle of the hair brush. "Daddy says that we can wear a baseball cap instead of brushing our hair."
Uh...no.
I left the girls rolling around on their beds, lamenting the evils of hair brushing. As I was drying my own hair and mumbling "Daddy is stupid," the apocalypse erupted. Apparently, the dog joined in on the bed rolling and sat on the dreaded brush, tangling it into his tail hair. The girls were chasing the jirating and yelping dog, shouting, "THE BRUSH IS IN HIS BUTT! THE BRUSH IS IN HIS BUTT!"
Wearing a bra, panty hose and fuzzy slippers, I chased, cornered, and tackled the terrified dog, removed the brush and shouted, "THIS IS WHY YOU SHOULD HAVE JUST.BRUSHED.YOUR.HAIR!"
Let's hope that this battle is won and finished. Next.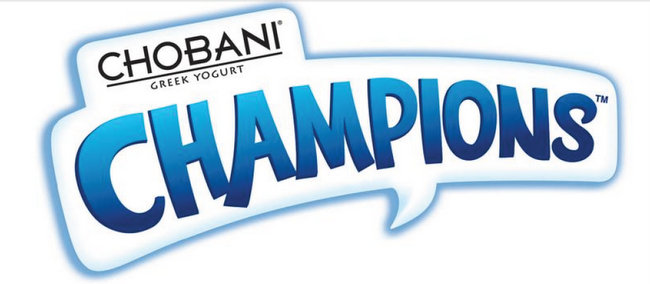 Raising kids isn't easy, but
Chobani Champions
is all about celebrating the little victories in parenting. Together with Chobani, we wanna make YOU a winner. Enter below to win 1 GRAND PRIZE* of a year's supply of Chobani and Chobani Champions. Yep, a year's supply of that delicious, nutritious, protein-packed parenting victory known as Chobani greek yogurt. Our grand prize winner will build a custom case for themselves to be delivered to their doorstep monthly, including 1 case of assorted Champions Flavors, 1 case of assorted Chobani Flavors and a bonus case of either Champions tubes, Chobani Bite or Chobani 32 oz cooking sizes. Every month for a YEAR!* 10 Runners-up will receive one case of Champions Tubes delivered to their doors! Giveaway begins April 2 and ends at midnight April 8. Chobani is gettin' social to find the good, the bad, the ugly… and a REAL taste of life with kids. Join in on the convo!
Follow Chobani at:
@Champions
on Twitter
Chobani Champion's
on Facebook
@ChobaniChampions
on Instagram
Join all of us on twitter for #spikedpunch Sunday night, April 7 from 9-10pm EST
. Enjoy the party and a chance to win 1 of 2 cases of Chobani tubes!
*Giveaway open to residents of the United States only. Grand prize winner will choose from products available at http://chobani.com/products/
a Rafflecopter giveaway
It's Finding the Funny Time!
Meet the Hosts
Anna @
My Life and Kids
Kelley @
Kelley's Break Room
Robyn @
Hollow Tree Ventures
Kerry @
HouseTalkN
Julie @
I Like Beer and Babies
Keesha @
Mom's New Stage
Meredith @
The Mom of the Year
Anna @
Random Handprints
Ellen and Erin @
Sisterhood of the Sensible Moms
Toulouse @
Toulouse and Tonic
The Rules
Link up an old or new funny post. Link up as many times as you want (
we're serious
.) The party is open until Friday at midnight. The earlier you link up, the more clicks you'll get. Click around and meet the other funny bloggers that are linking up. Follow the
Finding the Funny Pinterest board
. We'll all be pinning our favorites throughout the month. We don't ask you to link back to us or include a button on your blog, but we do ask you to send out a tweet or post about the party on your Facebook page. Be sure to use #findingthefunny.