One of the greatest perks of blogging has been meeting other bloggers. I had the pleasure of meeting Angela Amman at The Listen To Your Mother Show. She is as awesome in person as she seems on her blog. Meet Angela Amman...
Backstage with Ninja Mom, Angela Amman and HouseTalkN
Whispers spread through preschool pick-up times and conversations shifted towards the housing market while our kids chased each other around the playground. We craned our necks around clusters of pine trees and lamented the lack of swings at the small park we walk to after school, wondering about how to really determine school rankings and how to find the right neighborhood for each of our families' needs
.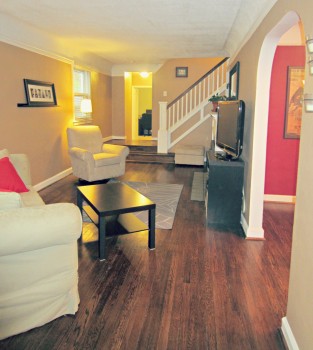 *That staircase had me at "hello."
In a town of bungalows and bars, the languishing housing market of the last few years meant families — our family, our friends — found ourselves biding time in starter homes and watching interest rates and purchase prices. We gathered in parks because yard space was at a premium and visited elementary schools, something few of us considered when we moved into our little city years before. Demand began to creep upward, slowly of course, stories of neighbors selling within the month instead of watching seasons change around "For Sale" signs. Winter shifted into spring and the whispers grew louder. With toys multiplying daily in our outgrown house, I couldn't stop my fingers from dialing the number to a recommended realtor — one I was assured would be brutally honest.
*Bright, colorful, and sweet... thirty minutes after bedtime!
The seed of curiosity sprang into life more quickly than I had expected, predicted sale numbers that indicated we might be able to sell without trading in either one of our children at closing. The brutal honesty partly manifested in an action items list that didn't sound too terrible until I grabbed a new notebook and began recording suggestions in ink. We forged on, pointedly ignoring the fact that we had started dozens of projects since the kids had been born — without truly finishing any of them.
Wallpaper that should have been removed sometime during the twentieth century finally came down, courtesy of a borrowed steamer, though much of the top layer of the plaster walls surrounding my tiny kitchen tumbled to the ground as well. Undeterred, with visions of a successful sale coaxing me forward, I dropped my daughter off at school and pulled into the home improvement store with my three-year old helper. Armed with internet how-to videos about skim coating — a term I hadn't heard until the previous evening — I strode confidently to the completely wrong aisle and ended up calling my dad for advice until someone took pity on me and helped me figure out the product I needed and helped me guide the heavy tub of goop into the cart.
*In a world where we only eat at the table!
*The dining room-office-toy box center.
Looking at the time, I decided not to try to skim coat the walls before preschool pickup, though I practiced saying the words until I convinced myself I could smooth out the uneven surface of the battered walls on my own. Lunch kept the kids occupied until I picked up the phone to call my dad — again — needing a little reassurance about the project I was determined to undertake. Either the hesitation in my voice or the chaos that escalated at the sound of a phone conversation convinced my dad to offer a little wall-patching assistance. He arrived with at least forty-eight tools and gadgets more than the bucket of joint compound and simple spreader I'd expected to use. It turns out applying a skim coat isn't quite as easy as writing it down on a list and buying some supplies. Days passed, and the crossing-off of our tasks tiptoed along, throwing our entire routine into upheaval.
The kids watched, fascinated, as the walls were transformed from the innocuous, dated wallpaper that they'd always known. They watched, confused, as their toys were shuffled into different locations, different piles, bags to be donated, bins to be moved into storage. Surfaces normally covered with stacks of books were cleared and dusted, and I found myself chastising them for dragging fingers across dark wood that seemed to gather dust each time any of us breathed.
*Where the staged house thinks I write!
*The serenity of a de-cluttered dresser.
I poured extra coffee and stared at lists and held tight to the positive words of the realtor while trying to convince the kids that we'd be back to our routine soon. I smiled while talking with friends while mentally running through checklists and counting down the days until the house would be ready to show. I believed a friend who told me that once things were organized I'd be able to get my house ready to show with a forty-five minute checklist. My friend must not be the mother of tornadoes. Chimes announced an incoming call — a scheduled showing. I reached into my bag of mothering tricks, and with seconds quickly turning to minutes, I grabbed my most powerful tool. Thirty minutes of a favorite show should have given me time to rush through the aforementioned checklist, one that took me nearly that long to complete because of ridiculous items like "straighten Tupperware cupboard."
I raced up the stairs in time with a theme song I find myself humming even when I'm alone in the car. Systematically I wiped surfaces and pulled a vacuum across the carpet, cleared errant ponytail holders and Thomas the Train underwear from the strange locations where preschoolers leave anything they shed. My checklist was specific, comprehensive, and dwindling, and I was blissfully unaware that my children were working on a checklist of their own. New red pillows brought a pop of color into our neutral living room, but they also seemed to be the perfect item for headstands off the couch and boats for sliding across the floor. The bin of LEGOs that was ignored for days suddenly needed to be emptied in search of a yellow flower piece. Water bottles carefully arranged near the door in order to be remembered in the event we were rushing — and I knew we'd be rushing — were hiding in couch cushions and tipped precariously close to leaking against the fireplace.
*When stuffed animals attack!
*When no one is using the cushions as gymnastics equipment.
Still, a well-designed list has the ability to slid even near-disasters into place, and I found myself ushering the kids out of the back door with time to spare. Of course, with kids, "time to spare" is relative; we ended up using our spare minutes to find Jessie the Puppy — a fluffy, stuffed, white toy nestled into a pink carrier — who wasn't satisfied with her place in the bedroom closet and was spending the early afternoon resting on the swing in the backyard.
Before closing the door on the sanitized version of our life, my eyes swept each room. That short moment of silence allowed a bit of sadness to creep into the frantic energy that had driven us for the past month. Outgrown or not, this little house was still our first home, and there was something bittersweet about seeing it all dressed up to entice a new family into walking through its doors. I could only hope they dont't care too much about organized
Tupperware shelves.
Now, hurry up! Go check out angelaamman.com!