Alicia from
Naps Happen
is usually cracking me up with her "napping posts" but today she is making me swoon over Sadler House- her historic house by the sea! Here is the kicker- Sadler House is available to rent for that perfect getaway! Welcome to HouseTalkN, Alicia!

For years, my husband Dan and I dreamed of buying a historic home by the sea. We're not really the type of people to spend our holiday on a sandy beach, but we had our sights set on a sweet little house by the ocean, where we could get fresh seafood and wake up smelling the salty air. As one-time inhabitants of New England, we also yearned for a home where we could feel like we were surrounded by history. We saved our pennies and, in August of 2013, our dream came true; we became the nervous owners of a circa 1900 three bedroom, two bathroom New Englander home about three blocks from the ocean in Rockland, Maine. As part of our plan, we also wanted to rent the house to weekly vacationers, but a lot of work needed to be done to get the house in shape before that could happen.
The thing is, when you go shopping for an old home in coastal Maine, you have to prepare yourself for fixing. I'm not talking about the kind of fixing you do in a 1995 tract home, where you swap out the gold builder fixtures for brushed nickel and take a picture. I'm talking about the type of fixing where your radiators are so old that nobody even makes parts for them anymore. I'm talking about the type of fixing where you take your thermostat off the wall and expose three layers of wallpaper and two layers of paint. I'm talking about popcorn ceiling that may have become...structural. The good news is that we had a dry basement and a new roof.
We had a vision that this house wouldn't exhibit some of the New England design choices that depressed us. Namely, we didn't want rooms covered in dark wood paneling, nor did we want rooms full of floral wallpaper and overstuffed furniture. Instead, we sought to bring the coastal outdoors
in
. We felt that, in order to combat the frequent gray skies of coastal Maine, we should fill the house with light colors. The result was the use of white paint throughout the entire house, a refinishing of the hundred-year-old heart pine floors upstairs, and furnishings we felt would fit the home's modest working-class origins, but still provide a little bit of getaway luxury for modern inhabitants.

Oh. Mah. Goodness. Cracks galore! Our caretakers and contractors at
Bumiller & Co.
spent a couple of months patching, spackling, scraping, and priming every room in the 1200 sq. ft. house. Two coats of primer and two coats of white paint were required to get the existing walls to the state of pristine white we desired. We used Valspar Homestead Resort Jefferson White in eggshell for the walls and a bright white semi-gloss on the trim. The downstairs floors are not original, so we focused our efforts on restoring the heart pine upstairs. Our contractor at
New Leaf Construction
went to work and the entire upstairs and the staircase were gorgeously refreshed and coated with new poly.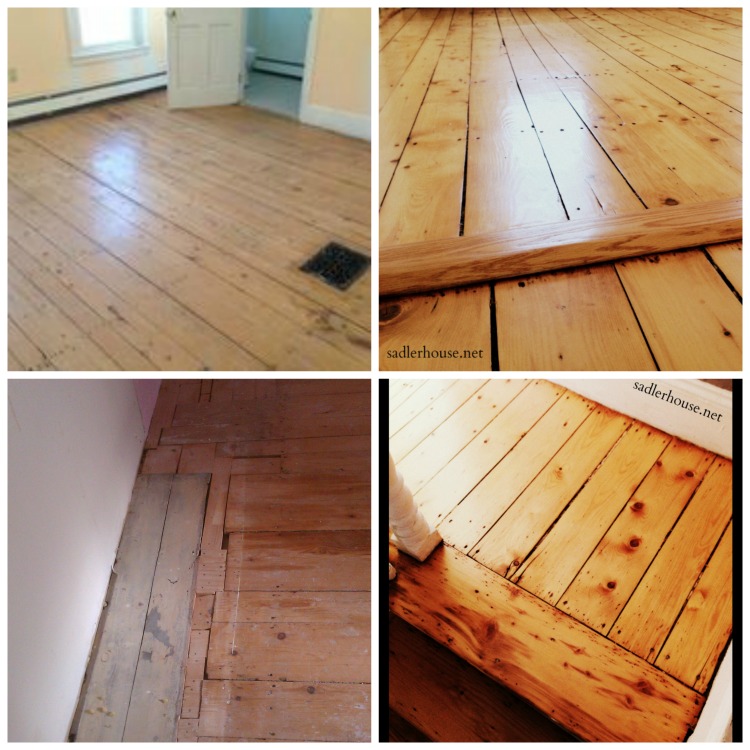 Before (left) and After (right).
The living room went from a gloomy gray color to a tranquil, comfortable room for family time. We furnished it with burlap curtains, two inexpensive chairs from World Market, and a clearance sofa from Hamilton Sofa Gallery. The coffee table was made by my husband using plumbing parts and poplar from our home improvement store. In the background, a framed copy of the 1920 Census hangs on the wall, showing the inhabitants of our house, the Nelson Cobb Carr family. The sconces were purchased for $20 from a local Facebook swap group.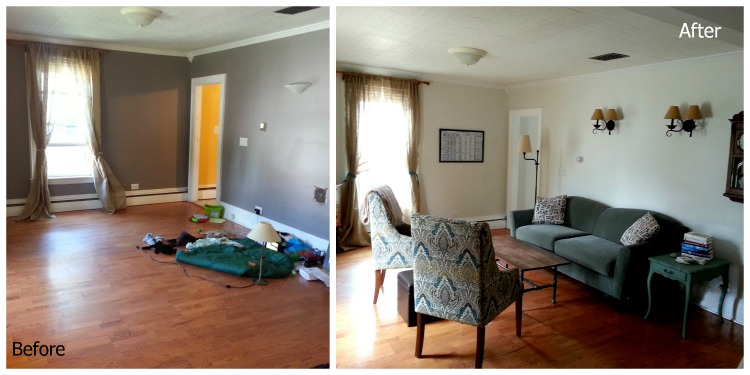 Lifting the gloom...
The dining room is one of my favorite transformations. It was painted a shocking color of yellow and the wall board was cracking. Additionally, when the back portion of the house had been added decades ago, they had put the plumbing through the wall of the dining room. Due to interesting choices of the previous homeowners, our window looked inside the neighbor's fenced backyard, so the blinds were always closed. We made a farmhouse table for about $125 and furnished it with similar benches to seat up to ten people. A chandelier replaced the unsightly light fixture. Lastly, we found a pretty privacy film that mimics stained glass for a fraction of the cost. Voila! Privacy without sacrificing light.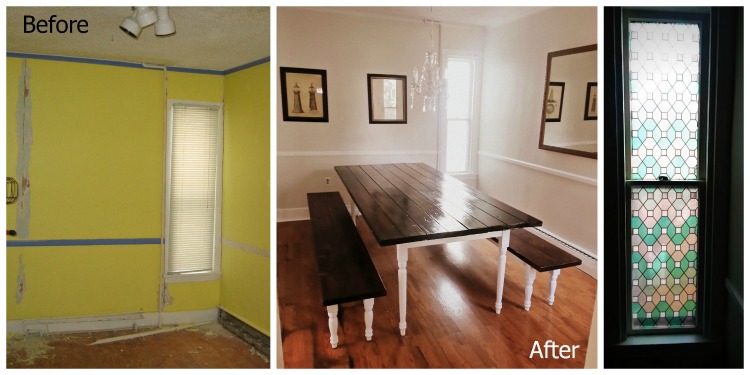 Flourescence: bad for digestion...
The kitchen was largely functional, but had been painted the color of margarine. The room needed a couple of new appliances, a good scrubbing, and gallons of primer and paint! We replaced the beat-up aqua stools with industrial stools we'd bought locally on a swap group and stenciled with nautical images.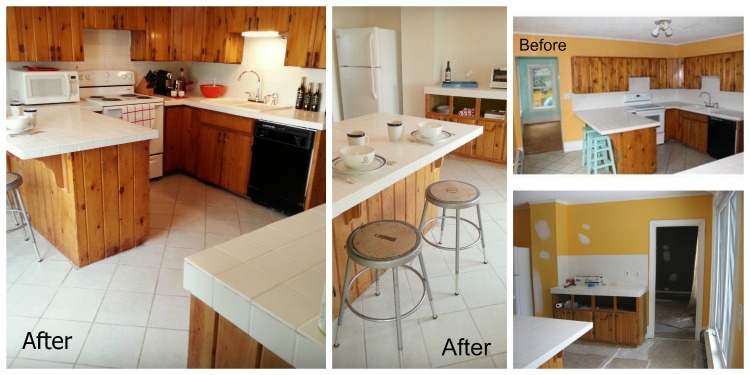 Margarine...not even good to eat.
Upstairs, the rooms were peach, pink/yellow/blue (in one room) and aqua. We decided to turn the largest bedroom into the master because it had a bathroom attached. Since we didn't have a queen headboard, I salvaged a piece of discarded wood trim from the curb near our home in Virginia and we used a seersucker bedspread to create a fun, preppy drape.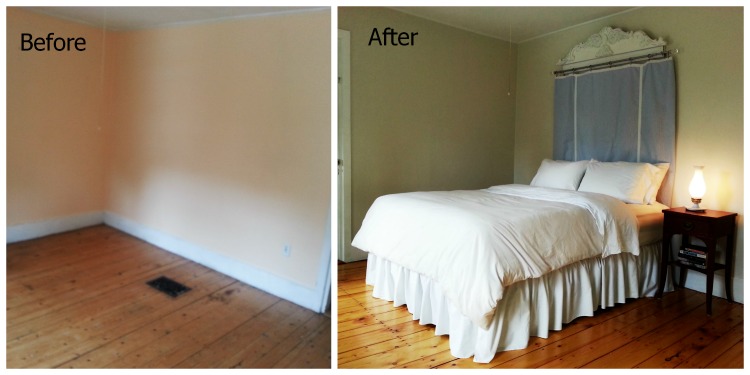 Not peachy before...
The second-largest room became the bunk room. Our boys love going to bed now!

Who doesn't love a bunkroom?
The easiest room to update was the smallest. It only needed a fresh white coat of paint and some restful furnishings. Not much else will fit!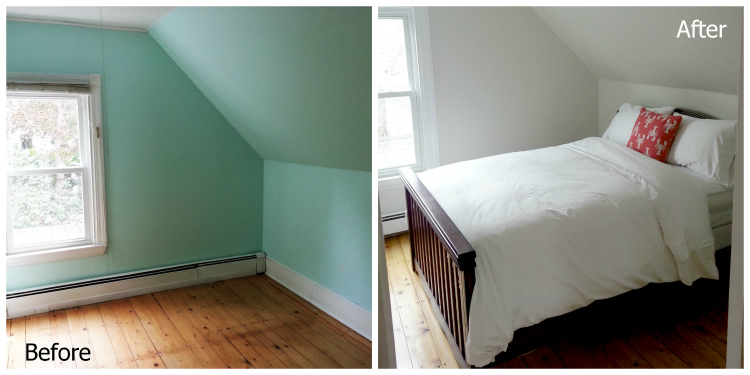 Sweet dreams under the eaves...
The only problem is that now we never want to leave. If you love what you see of
Sadler House
, come and stay! We are renting to visitors beginning in mid-July. Visit us for more information. You can also follow us on
Facebook
,
Pinterest
, or
Twitter
! Many thanks to Bumiller & Co. and New Leaf Construction for the "before" pictures in this article.